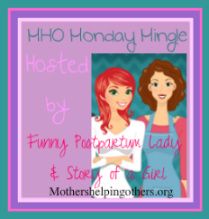 Welcome back to the Monday Mingle!
Hosted by
This Week's Theme: SECRETS
1. Without giving to much info, what is the biggest secret you've ever kept?
Ooohh….it had to do with a Christmas present. I couldn't tell anyone except my then best friend Amy. Ya see peeps….
My Daddy-o had bought this really awesome leather jacket it Las Vegas one year. It was his most prized possession. Besides me that is ;-) It had an American flag with the words 'God Bless America' embroidered around it. It hung on the back of his drivers seat in his semi. He always got a ton of comments about that jacket. Then one winter….one terrible night. His truck was broke into and they stole the jacket. Just that jacket! It made him so upset he came home from being on the road…ON A WEDNESDAY. Yes…that's right my peeps. My Daddy-o mourned his jacket.
So…I was such a great daughter that I got this bright idea some 5 years later that I would get him another one. This was our first Christmas with my parents divorced so I really wanted it to be special. First, was to track down the original flag jacket at Wilson's leather. It was discontinued. BUT….an outlet store had one about an hour and a half away. So at 14 years old…I told some white lies about where I was and Amy drove me to buy the jacket. After that, I had to hide it. This was in September. We moved during this time.
I stressed and lost sleep about how to get that jacket out of my house without my dad seeing it. I was obviously successful.
I didn't realize then how much work it would be to have someone embroider leather. They just don't want to do it! I finally found one place in town. They charged me a ridiculous amoung (more than what I paid for the coat!) and made me sign a letter saying they were not responsible for damages to the coat. I explained how special this was and the whole story. They promised to do their best.
The jacket turned out perfect.
My Daddy-o cried when he opened it Christmas morning and couldn't even tell people the story for the next year! It is still special to him!
Was that too much info...sorry!
2. Have you ever kept a secret from your Significant Other? Do you think he/she has kept any from you?
Other than surprises about birthdays or friends visiting no. Outside of the same reasons…not that I'm aware of.
3. Who is the first person you would automatically want to tell a secret to?
I don't have a lot of secrets. But Hubby Dearest. I tell people when they tell me something that I'm going to tell him, obviously unless they tell me not to!
4. Any secrets you want to get off your chest? Even if it's from the third grade, still counts.
5. Are you good at keeping secrets? Why or why not?
Yes. I hate it when I confide in someone and they share that with others, so I am very protective over what people tell me!
Okay, now it's your turn. Grab the button and questions and repost on your page!!! You don't have to answer the questions, you can just repost the button. Link your post up and mingle with other bloggers!!! No rules, just meet new people!
Next week's theme: DRAMA

Shana..