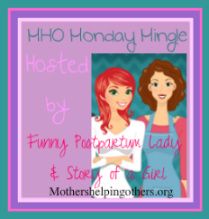 Welcome to the Monday Mingle!
Hosted by
This Week's Theme: LOVE
This Week's Questions:
1. Who was your first love?
I had many infatuations during school and there were a couple of times I would have sworn I was in love. But the ONLY time I can truly say I've been in love was and is with my husband. He was the first and the last.
2. Do you remember your first kiss?
Umm....no is that bad? It's been so long ago and I'm sure it was a meaningless thing. I know it was years later before any relationship developed past kissing. I was very innocent for a very long time.
3. What are your plans for this Valentine's Day?
Nothing. We aren't big on V-day. I'm baking heart shaped cookies with Lil Mister! ;-)
4. What do you love most about your Significant Other? If you're single, what quality do you look for the most?
His determination. Hubby Dearest will never give up. He can get down sometimes but he will always move our family forward.
5. What would be your DREAM gift for Valentine's Day?
Honestly, a pearl necklace. I LOVE pearls and think this a perfect gift for me for ANY holiday!
Okay, now it's your turn. Grab the button and questions and repost on your page!!! Link your post up and mingle with other bloggers!!! No rules, just meet new people!
Next week's theme: KIDS