A while back, Kaitlyn over at
Wifessionals
posted about a new group.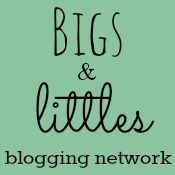 It was an awesome idea. It is a group in which they pair up some more established blogs with some newer ones. You gain ideas, tips, and friendships!
At first what I thought was unfortunate turned out to be perfect! There was WAY more littles than bigs and so a few of us littles got paired with each other this time around. I got matched up with the lovely Javeriya over at Believe and Inspire!
I'm enjoying so much getting to know her and thought well, you will too! So here she is.....
Hey there Organized Chaos readers!
I am Javeriya from
Believe&Inspire
, blog for DIY tutorials, tips, fashion, adventure filled travel photos, and much much more. Basically all about the stuff I love. :) I'm so excited that today I got this opportunity to introduce my little space to you guys, and make some new friends.
First of all I wanna thank Shana to let me introduce myself to you guys. Its a wonderful opportunity to meet new people. Thanks so much Shana! XO
I'll give a little bit more info on who I basically am- I'm medical student, who LOVES DIY and crafting. Few months ago I went crazy and launched a small hand-made bag collection heavily inspired by Abbey Dawn. You can see few of the pictures
here
, and let me know what you guys think. And, if you wanna know more about me you can click
here.
You can also check out my
YouTube
channel where you will find new DIY videos every Monday. XD
Moving on, today I'm gonna give you a short insight about everything that goes on at Believe&Inspire.
On Mondays I share freshly baked DIY video tutorials. The most popular one's so far are
DIY 5 Minute Clutch
. And, is my favorite too!
On Tuesdays I share all sorts of tips, from tips for students to home-made beauty tips. The one that most people liked were the
5 essential beauty tips
for everyday with free printable 12 months checklist.
Wednesdays are my days. Yep, every Wednesday I share totally personal topics, random ramblings or daily life stuff.
Thursdays are countdown days, where you can find Top 10 lists of variety of stuff. So far the most popular Top 10 list was the
Top 10 Up-cycled T-shirt Ideas
.
All fashion posts go live on Fashion Fridays and Saturdays and Sundays are off days. There you go, a quick view of Believe&Inspire in a rhyming sort of sentences!XD
Oh by the way, I have AngryBirds craft month celebration going on at the blog right now. So, all of you are invited to join us for four Mondays of Angry Birds crafts tutorial!
So, did you like what you saw/read?
Get in touch with me through all those social media platforms! Can't wait to have you guys over!
xoxo